We would like to take this opportunity to thank all our guests who have spent their holidays with us and have already booked with us for 2023. We are truly grateful!
Our beautiful house is in the first row at the idyllic cutter harbor of Neuharlingersiel with a wonderful view of the picturesque harbor and the islands of Wangerooge and Spiekeroog. Our guests appreciate the warm, private atmosphere of our house. We offer you a "cozy oasis" for your holidays, business trips, stopovers for the crossing to the islands, weekend connoisseurs, cyclists, single travelers, families, couples and everyone else.
Bookings and table reservations can be made at any time. You can reach us by e-mail at info@mingers-hotel.net, via our contact form and by telephone number 04974-9130. We look forward to welcoming you back soon! Yours sincerely, your Mingers Team!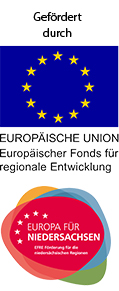 The harbour, the fishing boats, the sea, the mud flats, the light and the fresh air.
Pure relaxation at
MINGERS Hotel
Welcome to our cosy hotel with a view over the romantic harbour in Neuharlingersiel and the North Sea. The flair of our fishing village and our friendly team will make your stay wonderful and unforgettable.
Our hotel and Sielhuus are characterised by a luxurious East Frisian way of life and an authentic feel-good ambience. The hotel has been cultivating the character of regional originality since 1816. Let yourself be enchanted by the unique location at Neuharlingersiel Harbour, the North Sea and the beautiful East Frisian background.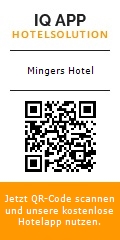 Looking back at 2017 – 2022
An initial overview in 2017 lead to us to embark on renovation work in the spring of 2017. Only a few months later did we understand that we were not getting to realise our true vision this way. Renovation is all well and good but if not done properly you start all over again after about five years.
So the management decided that we should not be doing things by halves – we should be tackling the redevelopment properly from the start. No sooner said than done. The architect sat down at the drawing board and the first proposal hit all the right spots. The local council, the listed building protection group, the water and the dyke authorities sat around the table and tinkered.
From 04 October 2018, right after breakfast and last check-out of the guests, the demolition began. It was impressive how quickly two floors can be demolished. Both floors were rebuilt, the rooms re-designed, a new lift and new windows, heating system, air conditioning system and a conservatory were installed, and so on and so on …
This process was very time consuming and so in 2019 we could only rent out the upper floor from September and the rooms in the attic from November. In addition, we also dedicated ourselves to redeveloping our Sielhuus form November 2019.
Here the rooms were modernised, the bathrooms redesigned, new windows were installed, the façade was renovated, the car park was extended and newly paved, a new roof was designed and the loft extended by two suites. Both offer a dreamlike view of the islands, the low-lands and the roofs of Neuharlingersiel. On a clear day one can even see the Carolinensiel mill!
In 2021 we renewed the lift in the Sielhuus and installed a new ventilation system in the underground car park.
With the renewal of the village road in 2023 all works in and around the MINGERS Hotel should be finished!
Health is our most valuable asset
Dear guests, we look forward to welcoming you back in person.
Health is our most valuable asset, and we must protect it as best we can. Our philosophy is to provide you and your family with the opportunity to create happy memories. Therefore, we see it still as our main task to reassure you of our full and detailed attention to the further existing corona situation.
We, the team at MINGERS Hotel, take this task very seriously indeed and observe all recommendations in terms of extended hygiene to protect against the spread of Corona. All hygiene and distance requirements, as well as the constant observation of changing procedures, the service and our offers are entirely directed to protect you and your health.
HYGIENE STATIONS to disinfect your hands are set up by the entrance door, at the lift doors and at the restaurant entrances. ROOMS: We use only virucidal cleaning agents and disinfectants for daily cleaning. RESTAURANT: If you have booked Bed & Breakfast, please reserve a table in our restaurant for dinner in advance. Unfortunately, we cannot always guarantee a table reservation in the evening at the moment.
Please follow the general recommendations to make everybody to feel relaxed and confident: Consistent hand hygiene, adherence to coughing and sneezing etiquette, regular room ventilation, thorough room cleaning, common sense.
We thank you for your active cooperation. Stay well in body and mind. We are very much looking forward to welcoming you.
Your MINGERS Team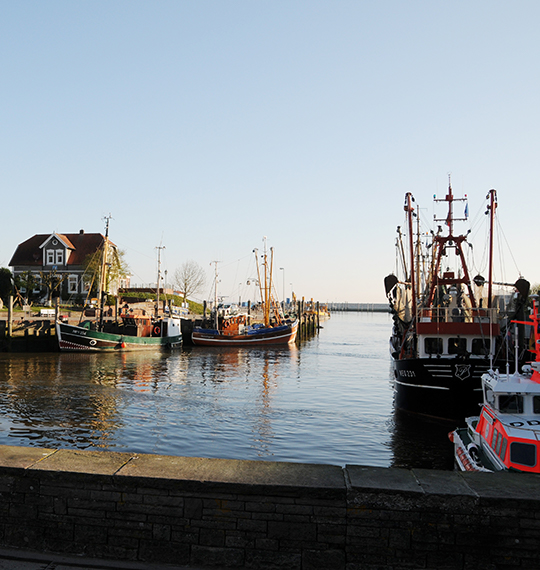 Where an idyllic setting is still alive and part of the lifestyle: East Frisia is a region where the land and the sea provide the perfect combination of natural experience and recreation in a unique way.

Living with tradition, style and a maritime ambience.
Situated at the front of Neuharlingersiel harbour, MINGERS HOTEL offers you East Frisian lifestyle in its purest form. In our individually designed rooms with lovingly selected interiors, you can truly feel at home – the atmosphere with the tradition of an established fishing harbour contributes to relaxation just as much as the unique and typical mudflat and dyke landscapes of the North Sea coast.
Join the slow-movement with pleasure.
All rooms in the hotel have been designed with a Nordic colour scheme in mind. Book a room with a harbour view and you can watch the hustle and bustle of the harbour from your room all day long. Our deep windows offer you an unforgettable view over the harbour and, on a clear day, the islands of Wangerooge and Spiekeroog. But all the rooms offer special features. Sit on the balcony, look out over the low land or enjoy the sea and the sunset.
Of course, we now also have wheelchair accessible and wheelchair-friendly rooms.
The appartements in the Sielhuus are individually designed and furnished. All rooms have shower/WC, balcony or bay window. You will find satellite TV and a minibar in all rooms and appartements, a bay window and some rooms offer an additional room for children. We have a lift in every house.
Daily newspapers at breakfast, free WLAN, free hotel parking (please enquire), bicycles can be stored free of charge in the underground car park, underground car park with charging stations for e-bikes and electric/hybrid cars – arrive and instantly feel at home at Mingers Hotel Neuharlingersiel.
Both houses have been completely renovated.
MINGERS Hotel
Our individually furnished rooms are particularly charming.
Individuality instead of a soul-less one-style-fits-all design.
The rooms, the hotel and the harbour.

Prices
Hotel
from March 2023
Single room
from 95 € / night incl. breakfast
with harbour view
from 105 € / night incl. breakfast
Double room
from 160 € / night incl. breakfast
with harbour view
from 170 € / night incl. breakfast
Sielhuus
from March 2023
Single room 
from 80 € / night incl. breakfast
Double room for single use 
100 € / night incl. breakfast 
Double room 
155 € / night incl. breakfast
"Snorer's flat"
(two single rooms with shared bathroom) 
75 € / person & night incl. breakfast
Other
Children up to 5 years free
6 to 12 years 25 € / night
13 to 17 years 45 € / night
Garage parking space 8 €
Dog up to a size of 30 cm 10 € / night
Charging e-car 0,50 € / KWh
Siel Suite:
Living room and separate bedroom, with balcony 175 € / night for 2 persons, incl. breakfast
MINGERS Suite:
2 bedrooms and living room with balcony 185 € / night for 2 persons, incl. breakfast
each additional person 45 € / night, incl. breakfast
From November 2023 until March 2024:
Low and winter season – prices on request
All prices are per room and day for one or two persons depending on category and occupancy
incl. breakfast, plus visitor's tax.
Price list valid from 12/2022. All other price lists are no longer valid.
MINGERS Hotel
in Neuharlingersiel
If you have any questions or would like to make a reservation please call us on:
Phone (0 49 74) 913-0
Fax (0 49 74) 913-21
E-Mail: info@mingers-hotel.net
Or send us a message right here (your data will be handled according to our privacy policy):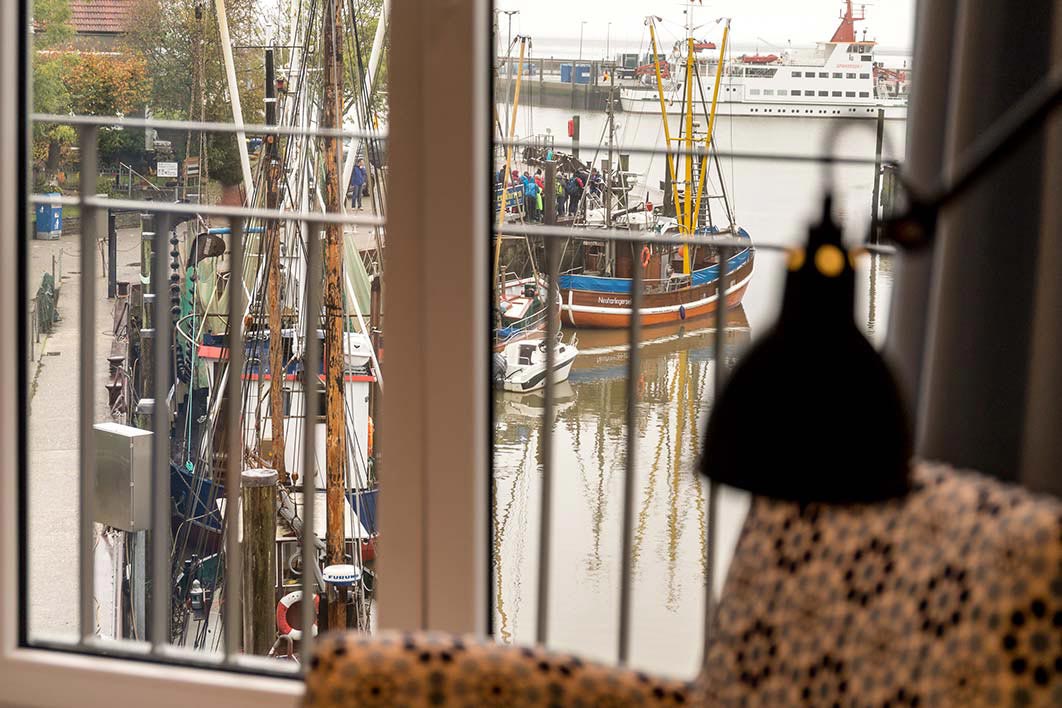 MINGERS Hotel
In Neuharlingersiel
Experience East Frisia from its most beautiful angles.